Approach
I strive to bring the latest pain reduction strategies to the table. The reason I do this is because I experienced an accident and had medical providers who did not seem to care – they treated me with cookie-cutter procedures and most assumed (never even asking) my accident was motor vehicle related when it was not. I had to explain every single visit, over and over, what I had experienced and how it made my situation unique. No one should have to go through that.
It's crucial for you to receive the support you need. I never want anyone to feel the way I did; to receive off-target care that forgets about you the second the appointment is over. I am on your team, providing tips to navigate the system, collaborating with your care team, customizing massage treatment, and researching specific approaches we can try one visit to the next. Each appointment, with your feedback, together we can support your goals for pain reduction.
My approach to bodywork is calm and caring. Trained by East West College of the Healing Arts, this Portland massage therapist explores modalities and techniques for all body types and sizes. Having researched and provided specialized treatment to folks recovering from injuries, as well as to sports enthusiasts I am enthusiastic about supporting sports recovery and growth. Since experiencing traumatic injury and resulting chronic pain, I have unique understanding of pain and the benefits massage can provide for healing.
Individualized sessions held in office at Awakenings Wellness Center – 1016 SE 12th (between Belmont & Hawthorne). Book Now to schedule.
More about me
They/She. I am a bass player in two bands, a former grantwriter / nonprofit program manager, operated a literary magazine for 10 years, and pre-pandemic I volunteered with Freeform Radio & Cash Oregon. I've provided writing and editing services for businesses, arts programs, law firms, nonprofits, folks navigating personal legal situations, and revised or written resumes for job hunters.
Caring Portland Massage was started in a tiny sublet space in the Alberta Arts district and relocated January 2020 to a suite in the Awakenings Wellness Center. Awakenings is a healing center featuring an array of providers, group activities and wellness offerings.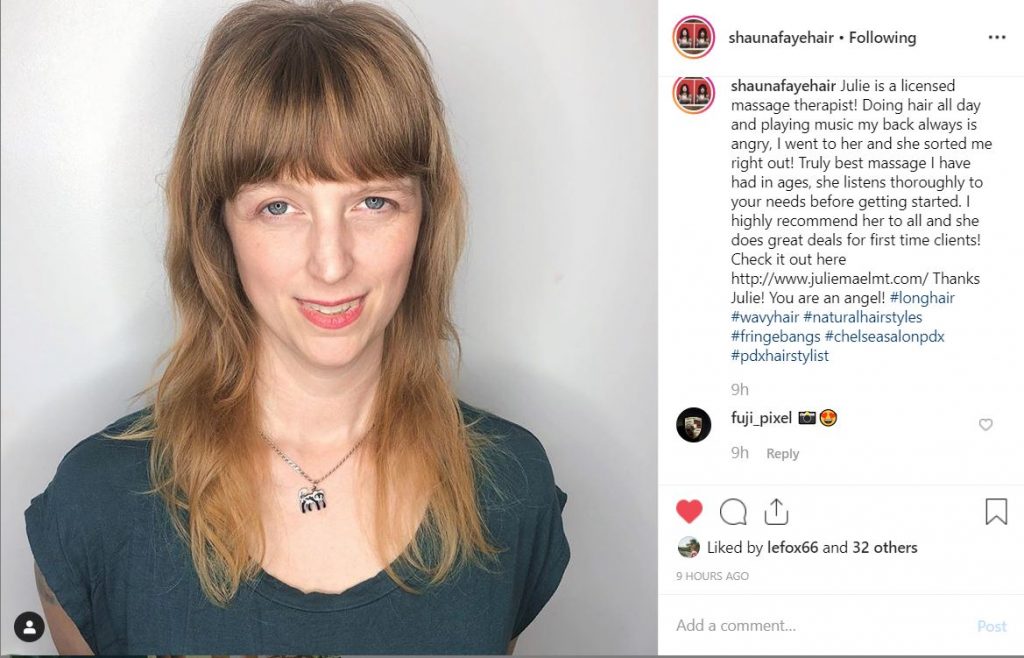 Training:
2023: NICABM's Treating Trauma Master Series, Sports Massage Muscle Energy Technique by Michael Eric Everson, Sarga Floor 1: Technique Basics, Sarga Floor 2: Wrapping It All Together, Sarga Adaptations for Raised Tables, Sarga 101 & 102 led by Amy Hastanan, Beyond Traditional Approaches: Exploring Harm Reduction as a New Paradigm for Eating Disorder Providers by Gloria Lucas, Cultivating Emotional Balance (CEB) with Anand Parikshak and Lani Potts
2021: FMT BLADES AND BLADES ADVANCED by Adam Wolf / Rocktape, Creating an Anti-Racist Organization with Joanne Kinya Baker, Proven Strategies for Alleviating Pain by The Schatz Method Training Academy
2020: sacro-pelvic-lumbar structural bodywork by Jonathan Primack, Cultural Somatics Racialized Trauma Informed Bodywork by Resmaa Menakem, Principles: headaches and migrains by Til Luchau, PREVENTING DISEASE TRANSMISSION IN A MASSAGE PRACTICE / Massage in a time of Covid-19 by Anne Williams & Eric Brown, Ethics, Communication and Boundaries Through the Lens of the Nervous System by Jessica Larsen, Ethical Communication and So Much More with Cal Cates and Kerry Jordan
2019: Foot Reflexology by Marc Zollicoffer, Myofascial Techniques: Scalenes and the Neck by Til Luchau
2018: 200 hour Yoga Teacher Training by The People's Yoga
2017: Core Strength Vinyasa Yoga: Total Transformation Teacher Training with Sadie Nardini, Reiki Levels 1, 2 and Master Level Traditional Usui Reiki